The district basketball game will start at 7:30. The girls game will be played at 6:00.

Due to continued hazardous road conditions, especially on our back and side roads and the chance of refreezing on main roads overnight, Advance Schools will not be in session tomorrow, Friday, February 25, 2022. As of now the District basketball game is still on for tomorrow night. Advance will take on Bernie at 7:30 at Bloomfield for the District championship.

District basketball has been postponed to Friday. Boys will play at 7:30. Scholastic meet has also been postponed. No makeup date has been announced.

Due to inclement weather, bad road conditions and possibility of more precipitation tomorrow, Advance Schools will be out tomorrow, Thursday February 24, 2022. A decision regarding the District basketball game will be made tomorrow.

Here is the Board Adopted 2022-2023 Tentative School Calendar. Please remember the school calendar can be amended by the school board at any time.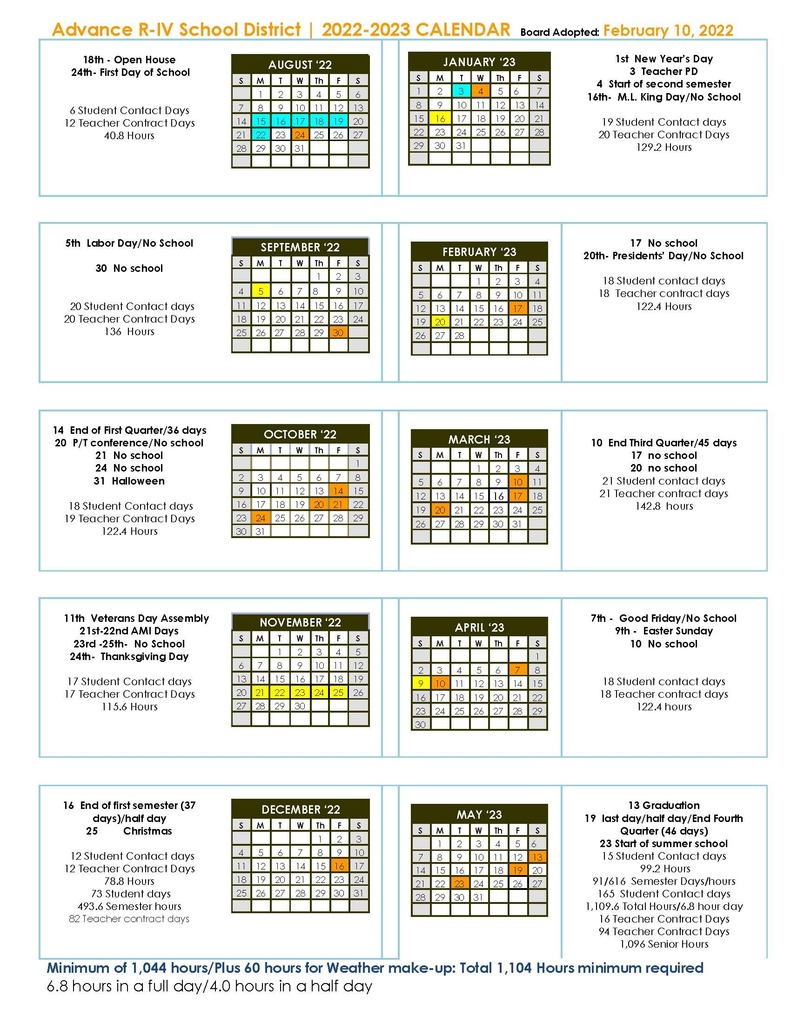 Due to impending weather and forecast from the National Weather Service, Advance Schools will be dismissing at 1:30 pm today. This will allow time for our buses to make sure all students get home safely and all student drivers and staff have time to get home before the freezing rain or sleet begin. National Weather Service estimates the arrival of the freezing rain/sleet to be between 2-3 pm. Should your child have a transportation change, please call the school office as soon as possible to make this change. Any decision regarding school tomorrow will be made later this evening.

As I watch the weather tonight, we may be in for a rough day tomorrow. If the timeline holds and the weather moves in early tomorrow afternoon we may have to dismiss school early. Please make sure your student has a plan if school has to be dismissed early. Please communicate any travel changes early tomorrow. As always, we will post to KFVS, radio stations and to our Facebook and website with any school changes.

Advance boys basketball defeated the Meadow Heights Panthers tonight in the district semifinal 47-45. We will play Bernie Thursday night at 7:30 at Bloomfield for the district championship. If weather causes a change we will post it as soon as possible.

District Boys Basketball tonight at Bloomfield. Hornets will take on Meadow Heights Panthers. Tip off is scheduled for 7:15. May start earlier depending on game before us.

Advance Girls Basketball will be in action Monday at 7:15 in the district tournament at Bloomfield. The Lady Hornets will take on Meadow Heights in the semi finals of the district tournament.

Advance boys win their first round district basketball game vs. Bloomfield, 68-40.

We are up and live with our new look for our website. We will have a smart phone app available real soon.

District Basketball starts this Saturday, February 19. The boys will play Bloomfield at Bloomfield at 12:00 pm. Girls will start their district play on Monday at 7:15 pm at Bloomfield. The Lady Hornets will take on the winner of the Bloomfield/Meadow Heights game. Good luck to both teams.

Scholastic Meet is next Thursday, February 24.

REMINDER: Advance Schools will not be in session tomorrow February 18 or Monday February 21.

A GREAT BIG HORNET PRIDE CONGRATULATIONS TO ALANDRY BELOW FOR SCORING HER 2,000TH CAREER POINT ON FEBRUARY 15TH. WAY TO GO ALANDRY!!!! #HORNETPRIDE GO BIG ORANGE

Did you know our Jr. Beta students read to the children at the Advance Community Library!? There were even crafts and cookies, too!! Thank you Mrs. Whitson and the library board for letting our students have this wonderful experience!

The future of Advance Cheer looks bright!! (click "See All Posts" for picture)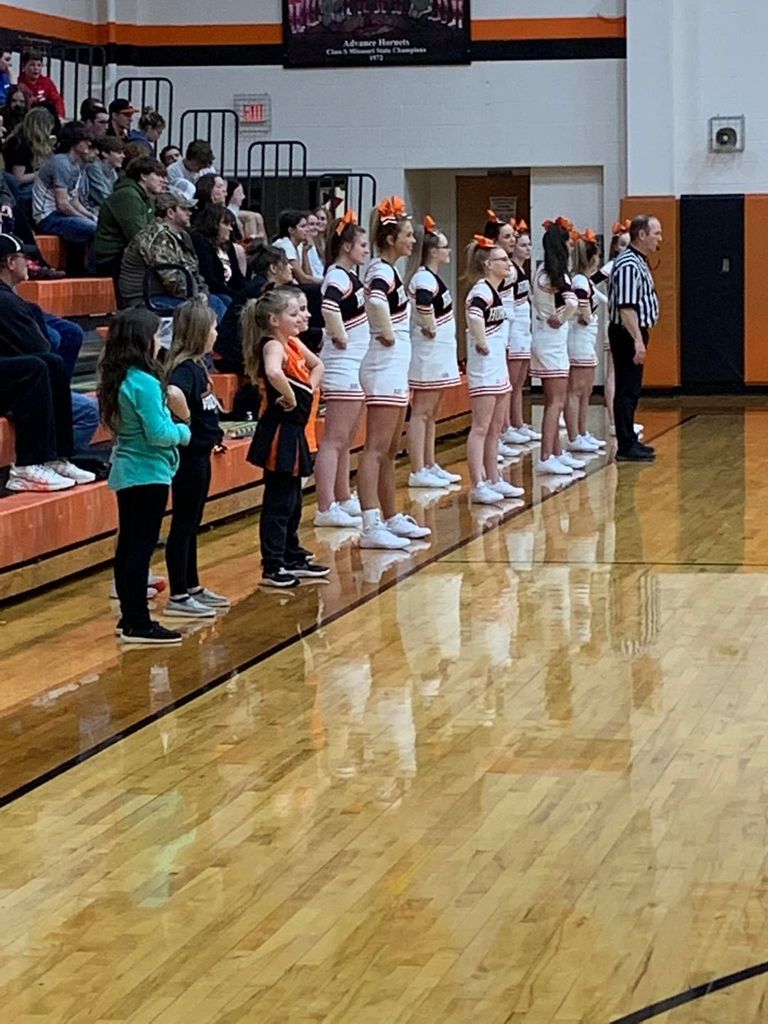 CONGRATULATIONS to Coach Erin Hoffman for being selected to the 2022 class of the Missouri High School Volleyball Coaches Association Hall of Fame.

Little cheer performance will be February 4 at the halftime of the JV basketball game. You won't want to miss it!